Neues AddOn EQ2 - Kunark Ascending
Verfasst: 6. Feb 2017 15:42
EVERQUEST II: KUNARK ASCENDING
Jetzt vorbestellbar auf
https://www.everquest2.com/expansion-co ... cale=de_DE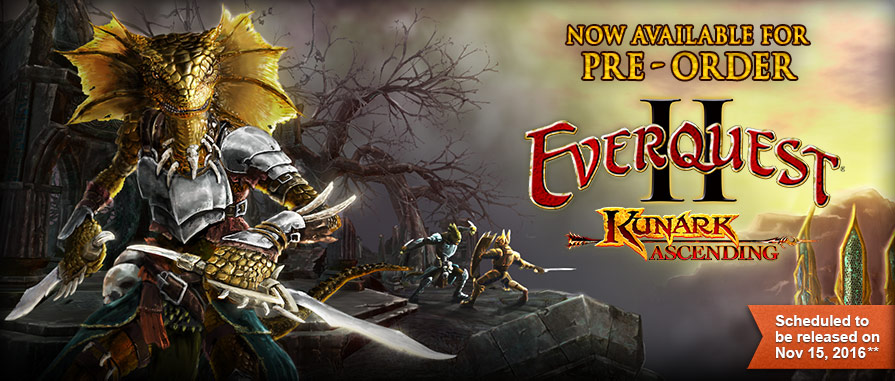 Norrath remains in danger from Lanys T'Vyl and her pursuit of power! It is up to you to keep Lanys T'Vyl from acquiring the third and final Chaos Stone. Return to Kunark to stop Lanys from ushering in a new age of power for Norrath's pantheon. Adventure through previously unexplored lands as you attempt to protect the last Chaos Stone from Lanys' evil clutches.
It will take great courage to stand against the coming darkness. When the Tenets of Hate ascend, will you stand against them?
Kunark Ascending is the 13th EverQuest II expansion and brings new and exciting adventures to Norrath.
Journey to Obulus Frontier in North Kunark where you'll explore the ruins of Kaesora, fight through the Crypt of Dalnir in Warslik Woods, traverse the City of Mist, and adventure through more areas both familiar and undiscovered!
KUNARK ASCENDING EXPANSION FEATURES
All new dungeons for Solo, Heroic, and Raid parties alike.
4 new Ascension classes available to all max level characters!
Upgrade your epic weapon with all new Epic 2.0 Quests.
Gear Up Your Mercenaries – With the new mercenary equipment feature you can now equip your favorite Mercenaries with gear to increase their power.
New Wardrobe Tab – Free up space with the new Wardrobe tab. Any relevant items placed into the Wardrobe will be converted into appearances and won't take up any inventory slots!